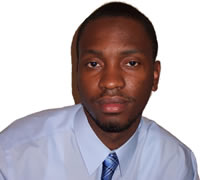 Kambale Musavulli, the spokesman for Friends of the Congo, will be at the Black Dot Cafe in Oakland on April 18 to give an update on the Congolese War in Africa. The conflict hasalready claimed the lives of 6 million people.

Come find out how this genocide taking place is directly related to your cell phones, laptops, PS3's, and Ipads.

The event, sponsored by Block Report Radio takes place at 6:30 p.m. at the Black Dot Cafe in West Oakland. 1195 Pine St. Donation requested.